AMNOTE-BSG ONE Vietnam MOU signed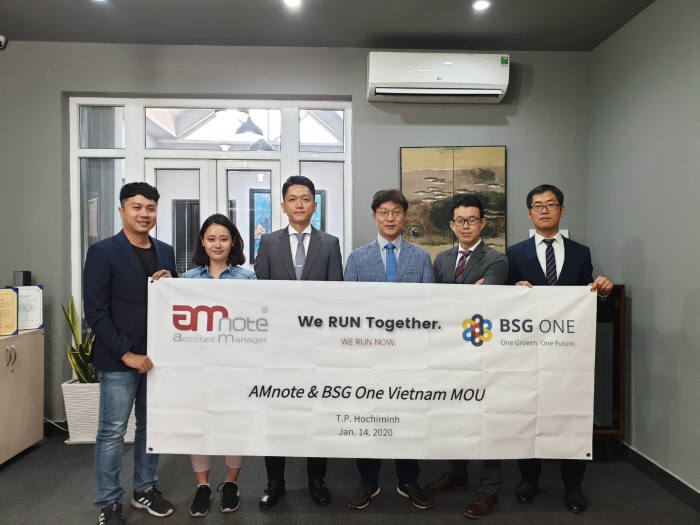 BSG ONE (CEO Kim Tae-ryong) and Vietnam electronic invoice company AMNOTE (CEO Koo Jin-young) announced on the 19th that they signed an MOU at the headquarters of the AMNOTE in Ho Chi Minh, Vietnam.
Both companies decided to provide SAP ERP with Electronic invoice of AMNOTE when establishing BSG ONE in Vietnam.
AMNOTE is the only Korean company that have won the Vietnamese government's official approval among five electronic invoice companies. About 1,300 local Vietnamese customers are using the AMNOTE electronic invoice solution "AM-eInvoice." In particular, 15 percent of Korean companies, including listed companies in Vietnam, use AMNOTE solutions and accounting consulting services.
BSG ONE provides ERP solution 'SAP Business One' establishment and operation services specialized to small and medium businesses. SAP Business One is suitable for small and medium-sized enterprises as solutions that integrate business processes such as △financial, △sales, △customer relationships, △inventory, and △operations. BSG ONE currently operates the local corporation "BSG ONE Vietnam" in Ho Chi Minh City, Vietnam. It is the only Korean company that has established an ERP branch in Vietnam.
The Vietnamese government is requiring to use electronic invoice from November this year. Accordingly, Korean companies operating in Vietnam should prepare for this point when they introduce ERP system.
"BSG ONE Vietnam is the only SAP consulting company that Korea and Vietnam Consultants provide SAP solutions based on Vietnamese accounting," "We will provide high-quality SAP consulting to Korean customers and local customers In Vietnam by allowing one-click access to AMNOTE  E-invoice at the SAP.", said Kwon Young-geun, president of BSG ONE Vietnam