AMNOTE – "Top 10 Leading Brands in Vietnam"
On the morning of December 15, 2019 AMNOTE was awarded the "Top 10 Leading Brands in Vietnam – Vietnam Leading Brands – The sixth times 2019 ". The program was evaluated by the Competition Survey Institute, Vietnam Union of Science and Business Development in collaboration with agencies and concerned organizations and was broadcasted live on HTV1, Ho Chi Minh City Television.
"Leading brand in Vietnam – Vietnam Leading Brands – The sixth times of 2019" is a place to exchange, meet and connect creatively with businesses with prestigious products and services, honoring brands with positive contributions, effective in improving the quality of products and services and commitment to better customer service.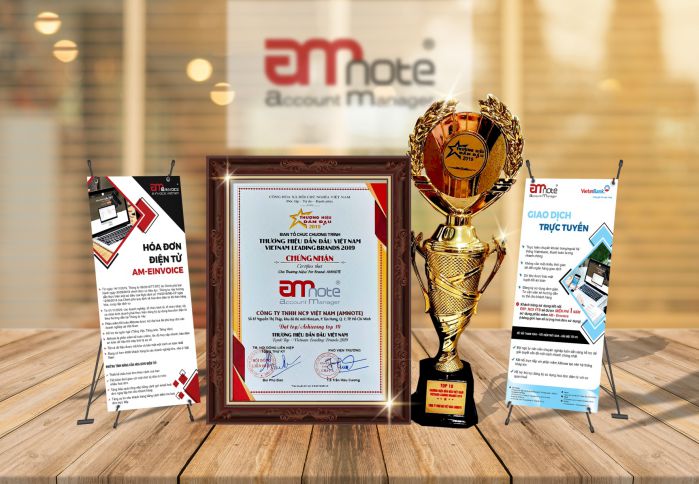 Sharing at the awards ceremony, Mr. KOO JIN YOUNG, Director of NC9 Vietnam Co., Ltd. – AMNote said, "I am very honored to receive the award of the 'Top 10 Leading Brands in Vietnam by the company representatives', Vietnam Leading Brands – The sixth times 2019″. The award is the recognition of customers for NC9 Vietnam Co., Ltd. – AMNote has made continuous efforts to provide high quality products and perfect services. This is also the source of encouragement that we strive to achieve the best results. "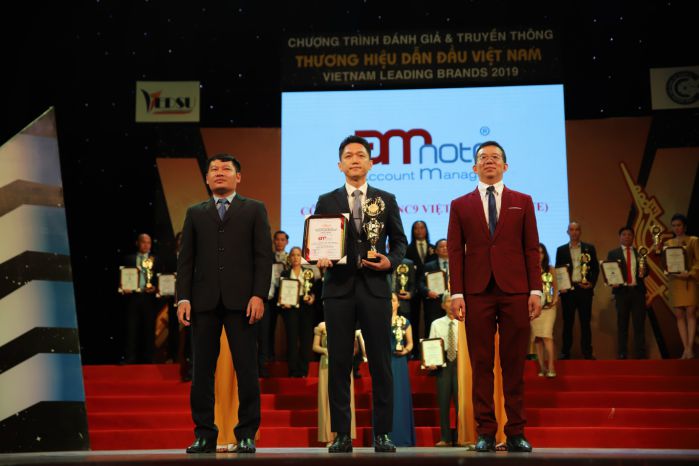 NC9 Vietnam CO., LTD is a 100% Korean owned company, has been operating for more than 15 years in Vietnam and is a member of the Vietnam Accounting and Auditing Association (VAA). The company operates in the field of computer programming, accounting software, electronic invoice software, ACVA computer accounting certificates, accounting services, website design, … The company has a team of highly specialized programmers, professional staff serving over 4,000 customers and supporting education for about 60 universities in Vietnam.
We are the author of multi-language accounting software AMNOTE, granted the Copyright Certificate No. 4282/2015 / QTG dated September 29, 2015 and the Trademark Registration Certificate No. 239989 dated February 5, 2015 and Electronic invoice software AM – E-invoice (Software developed by IT Department – General Department of Taxation) was granted the Copyright Certificate No. 4310/2019 / QTG dated July 24, 2019.
AM E-invoice software was developed by IT Department, General Department of Taxation and has the outstanding feature is the application of Korean technology platform to ensure the safety, transparency, and reliability of electronic invoices. The software has achieved GS security and safety certification, which was granted by the Ministry of Information and Communications of Korea. In addition, the software is built into AMnote multi-lingual accounting software. So it is very convenient for users and all data in the electronic invoice software module will be linked to the accounting software data. It helps businesses save time and effort but users just need to perform the process of making, issuing invoices and sending invoices right on the software via the internet, email.
We are having a program to accompany, support and develop businesses including:
AM E-invoice software will be used for free 1 year (an unlimited number of invoices used)
Support free design of the invoice template as required by the Enterprise
Support for invoice release notices.
Support installation, free user guide (even in case you change your business accounting).
Guidance, advice, answer policy invoices, accounting, tax.
Support for start-up businesses to use AMnote accounting software for free for a period of 1 to 3 years
In addition, our company has cooperated with Vietinbank to deploy the electronic banking connection service on AMNote accounting software. NC9 will implement preferential policies for customers using the service "Connecting AMNote and eFAST payment" that will be able to use free electronic invoices (Unlimited number of invoices) until the end of 2020 and VietinBank will exempt 100 % 6-month service connection fee.
Some pictures at awards ceremony: