Concluded The Supporting Software Cooperation Agreement For Students Of Da Lat University
On the morning of 02 Feb 2018, NC9 VIETNAM COMPANY belongs to AMGROUP had signed the agreement with Da Lat University to support software for students and staffs with specialized knowledge in Information Technology of university, supporting and equipping high-availability software for students to access and study in a specialized computer technology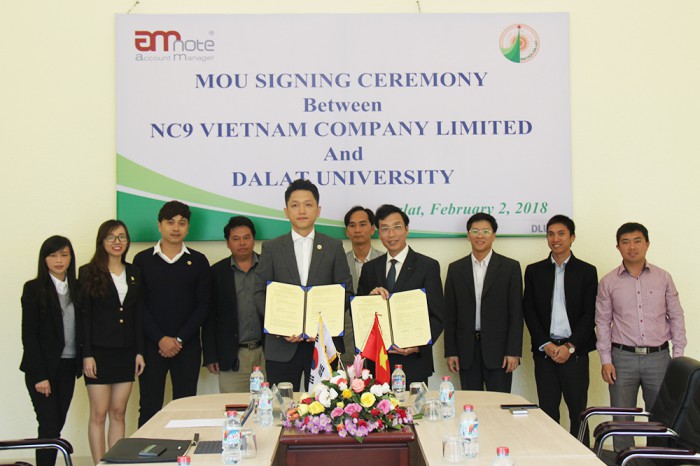 Accordingly, NC9 will support multilingual software called AMNOTE to help students improve the efficiency of accounting services, support for different languages and have the ability to connect the national information and data. Besides, in this agreement, NC9 VIETNAM will support students of Da Lat University with soft skills training courses, specialized computer classes combining English learning.
NC9 Company is a unit specializes in operating in the areas of software, computer programming, accounting services, auditing, investment consulting, website design services…. has supported software to many universities nationwide.
Speaking at the agreement, Associate Professor Dr. Nguyen Duc Hoa – Principal of Da Lat University said that "The signing with NC9 not only supports the school in training, but also creates an opportunity for students to practice and working at the company and the AMGROUP. Da Lat University is the place where annual organize seminar on information technology nationwide, NC9's software will contribute to the organization of these seminar".