LIST OF SUPPLIER ORGANIZATIONS THAT HAVE PARTICIPATED IN THE EVALUATION AND COORDINATION WITH HANOI TAX DEPARTMENT TO DEPLOY THE LATEST E-INVOICE DATA UPDATE 15/06/2021
On 15/06/2021, Hanoi Tax Department continues to update the reference list of suppliers who have participated in the assessment, deploying and coordinating e-in invoice data selected by the Tax Department to coordinate the implementation of e-invoices.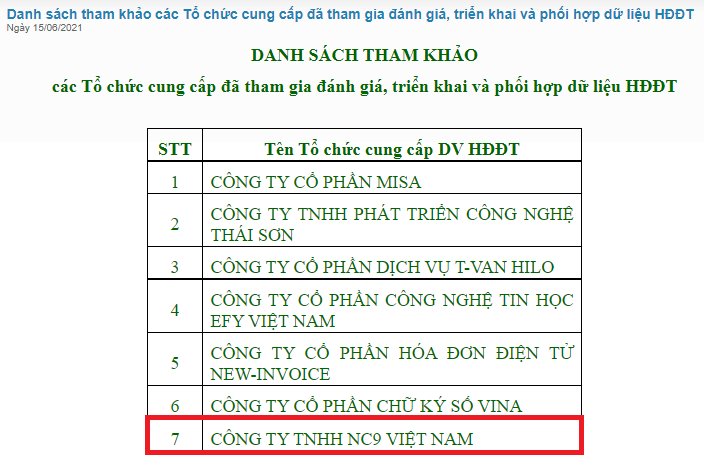 Accordingly, the electronic invoice providers on this list have been carefully selected by the Hanoi Tax Department, which must fully meet certain criteria and requirements.
NC9 VIETNAM CO., LTD (AMNOTE) is the leading e-invoice provider chosen by the Hanoi Tax Department to coordinate the deployment of electronic invoices with AM-Einvoice software.
Not only fully meeting the invoice profession in accordance with the law, the AM-Einvoice e-invoice software also has outstanding featurest:
Design your own invoice template
Save time with an electronic signature on multiple invoices.
Support the installation, guidance and consultation of electronic invoices registration dossier with tax authorities.
Integrated on AMnote accounting software to create a self-contained system.
A team of professional consultanst are always ready to assist to solve problems quickly.
NC9 Vietnam Co., Ltd. is proud to be the most reputable and professional electronic invoice supplier with extremely attractive incentives:
Gift 200.000 VND for the first time applying for e-invoice.
For more information, please contact:
NC9 VIETNAM CO., LTD
Address: 87 Nguyễn Thị Thập, KĐTM Him Lam, Phường Tân Hưng, Quận 7, TP.HCM
Website: ameinvoice.vn
Hotline: 09 2121 9000 (Ms.Trúc)